Pangot Birding Tour Report
Report By: Deepak Kumar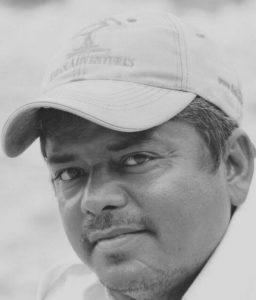 Naturalist and Guide  at Asian Adventures
On the Third of September 2017, we left Delhi for Corbett, stopping at Gajraula for Lunch. We arrived at Corbett at 17:30 hrs. After checking in to the Hotel we moved around the Lodge and the Kosi River.
 Nest Morning at 5:30 we left the Tiger camp with packed breakfast for Kumeria, We spotted birds such
as grey breasted Prinia, Himalayan Bulbul, Red-vented Bulbul, crested kingfisher, white-browed wagtail, and oriental white eye.
 We drove further to Mohaan, after birding, we took a break for breakfast where we spotted the Ashy Bulbul, chestnut headed bee eater, Chestnut-bellied Nuthatch, Rufous woodpecker and Brown cape pygmy woodpecker.
We returned to Tiger camp, post lunch we drove to Pangot via Kaladhungi and Nainital. The weather was cloudy and as we drove to the higher altitude the climate got misty. We arrived at Pangot at 18:00 Hrs.
 Next morning we left at 5:30 for Cheer point, due to the cloudy weather and rains we couldn't spot the cheer but we spotted the Khalij Pheasant right on the road between cheer point and Vinayak. We drove further crossing the cheer point and we spotted the Himalayan woodpecker, white-tailed nuthatch, ultramarine flycatcher, Eurasian Jay. We returned to Vinayak and began walking we spotted the Rufous-bellied woodpecker, greater yellow nape, Black-throated Tit, coal tit, grey hooded warbler, green-tailed sunbird, black lowered tit, brown fronted woodpecker, hoopoe,
 We returned to Jungle Lore Birding Lodge for lunch. Post 15:00 hrs we went to the phot hide, we spread some grains to attract birds we spotted the spotted doves, oriental turtle doves, streakedlaughing thrush and red-billed blue magpie.Around the Jungle lore birding Lodge, we spotted the yellow-breasted greenfinch, Black-headed Jay,
Grey Bushchat and Wedge-tailed green Pigeon.
It was getting cloudy and misty so we returned for rest.
 Next morning we had an early breakfast at JLBL and left for Sat Tal where we spotted Great Barbet, Lesser Yellow nape, Greater Yellow nape, Bronze Drongo, Ashy Drongo, long-tailed minivet, velvet fronted nuthatch, Chestnut-bellied Nuthatch, Red-billed leiothrix, blue-winged minla and a slaty headed parakeet.
 We drove on toward Delhi stopping at Moradabad for lunch. We arrived at Delhi at 19:00 Hrs